Trade Secret Protection and Litigation in Florida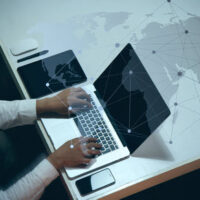 When a business or person obtains and uses information deemed to be a trade secret, it can result in litigation. Trade secrets are typically defined as any information that includes a pattern, formula, method, process, device, compilation, or program that is a form of intellectual property that is not generally known or reasonably ascertainable by other people by which another business can obtain some type of economic advantage.
Trade secret litigation is a very complex area of law, and you definitely need an experienced Florida business law attorney who can explain the entire process and advise you on the best course of action for your particular case.
Trade secrets are very different from other forms of intellectual property. With copyrights, patents, or trademarks, there are ways to register and protect them. You do not register trade secrets with the government.  The typical method of protecting corporate trade secrets is via agreements involving covenants not to compete, nondisclosure clauses and covenant provisions related to acknowledgment that the employer owns the trade secrets and that they shall not be disclosed to any third-party person or entity.  Your main option is to ensure the information remains confidential. This is why legal intervention is common in situations involving stolen trade secrets or misappropriation. 
Uniform Trade Secrets Act
The majority of states have adopted the Uniform Trade Secrets Act, which is designed to protect trade secrets for those businesses who operate in multiple states. Florida also has its own act known as Florida's Uniform Trade Secrets Act, Chapter 688 of the Florida Statutes (FUTSA). It is similar to the federal act but includes a broader definition of trade secrets in order to cover a wider-range of information that businesses might be looking to protect as trade secrets.
FUTSA allows businesses to include a cause of action for misappropriation of a trade secret as well. This action arises when the trade secret was acquired by someone who knew or had reasons to know that the trade was acquired by improper means. It can also mean use or disclosure of a trade secret by someone who used improper means to gain the knowledge, or at the time of the disclosure, knew or had reason to know the information was derived from someone who gained it improperly, had a duty to keep it secret, etc.
Case law in the state has created some inconsistencies on what actually constitutes a trade secret. These inconsistencies are why working with a knowledgeable Florida business law attorney who has experience with trade secret litigation is so crucial. 
How a Florida Trade Secret Attorney Can Help
Trade secret attorneys can help both plaintiffs and defendants with enforcement and litigation. To protect a client's trade secret, your attorney will look into options like non-disclosure agreements, licensing agreements, non-compete contracts, and more. When it comes to litigation, a trade secret attorney will go after someone or a business who misuses, steals, or misapplies a trade secret without a valid agreement and restrictions in place. Claims of unfair competition and violation of non-compete agreements are common issues in trade secret litigation.  Noncompetition agreements are written and reviewed pursuant to the terms of Chapter 542 of the Florida statutes, which has codified the case law from many years of judicial decisions interpreting such agreements.  Another option as a part of standard litigation is to file an injunction or restraining order to keep former employees or other competitors who are misappropriating a business' trade secrets.  One of the standard features of our employment agreements is a clause requiring mandatory arbitration of employment claims with concurrent jurisdiction in local courts to administer injunctive relief pending the outcome of arbitration.  Arbitration is generally less expensive than typical civil litigation and is generally concluded in less time. 
Contact an Seminole Business Law Attorney
If you need assistance with trade secrets or other aspects of intellectual property litigation, contact a Florida business and corporate lawyer at the Law Office of Clifford J. Hunt, P.A. today to schedule an initial consultation.
https://www.huntlawgrp.com/specific-performance-and-florida-contract-law/