What Is A Reverse Merger?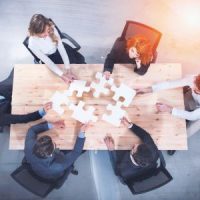 A standard merger is when a public company acquires a small private company, either absorbing its assets or guiding it through an initial public offering (IPO). However, a "reverse" merger or "reverse IPO" is possible, and happens when a private company effectively goes through an IPO by acquiring a company that is already public. This can be a complex process, so engaging an experienced business law attorney is highly recommended.
Why Choose Merger?
One might wonder why a company would want to go through the long procedure of merging with another company other than to acquire its assets, but sometimes, merging with a small public company is a good option for an enterprise that wants to go public quickly. Federal securities law regulates the procedures for an IPO, which can take anywhere from six months to over a year if done in the standard manner.
By comparison, a reverse merger will generally take much less time because it can legally bypass some of those procedures without running afoul of the Securities & Exchange Commission (SEC). It does mean that the private company must have a sizable nest egg, however, as no capital is raised in a reverse merger (unlike in a traditional IPO), but if cash is not an issue, this procedure may still be preferable for some businesses.
Potential Risks To Investors
While there are numerous advantages to a business in pursuing a reverse merger, it is important to be aware of the details of the procedure, because a failure to do so can place your investors in a bad position. It is unfortunately not uncommon for companies to fail after reverse mergers, either because of cash flow issues or because details are missed – for example, the merged company may not meet the qualifications to trade on the same exchange as the public company pre-merger, which can halt trading for long enough to cause serious financial issues.
On the investor's side, there may simply be a change in the company culture, or a change to the amount of benefits being a shareholder can bring. If there is enough of a change where investors look to sell en masse, this can cause major problems for a company seeking to grow publicly. If a reverse merger happens, it must be done carefully, with full transparency.
Call A Seminole, FL Mergers Attorney
Depending on the circumstances, a reverse merger can be an appealing option for many businesses. A Florida mergers attorney from the Hunt Law Group can advise you as to the best course of action. Contact our office at (727) 421-0444 to schedule a consultation.
Sources:
law.cornell.edu/wex/section_5
sec.gov/investor/alerts/reversemergers.pdf