SEC Review and Indications of Interest in IPO Shares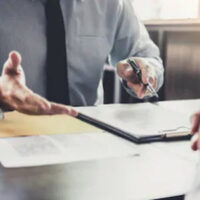 In order for a business to offer or sell its shares, it must register with the U.S. Securities and Exchange Commission (SEC) or be eligible for an exemption to registration. The first time a business offers or sells its shares to the public, this act is known as an initial public offering (or IPO). When a business registers with the SEC, it must provide a number of documents, including a prospectus. Parties that are interested in purchasing shares in the business can indicate an interest to purchase shares. These indications are not binding, but they can play a significant role in how the IPO plays out. Any indications of interest to buy must be clarified in the prospectus, and sometimes such indications can result in a prolonged SEC review process.
Registering an Offering with the SEC 
When a new company wants to offer its shares, it must file a registration statement with the SEC, according to an SEC investor bulletin. For most companies, registering means filing Form S-1 (although some companies will use other forms). As part of the registration, the company must submit a prospectus. This prospectus, according to the SEC, is "the offering document describing the company, the IPO terms, and other information that an investor may use when deciding whether to invest." It is also the document that the company uses to try to get people to purchase shares.
This prospectus is important for many reasons. As the SEC bulletin clarifies, it "provides information regarding the terms of the securities being offered as well as disclosure regarding the company's business, financial condition, management," and numerous other issues that an investor would be interested to know about.
How the SEC Review Process Works 
Any registration statements, whether a company files a Form S-1 or another form, can be reviewed by the SEC for compliance purposes and to ensure that the company has disclosed all necessary and relevant information.
An SEC review can lead the company to make changes to the prospectus. It is ultimately up to the company to ensure that it has disclosed all necessary information. To be sure, even when the SEC declares that a registration statement is effective, concerns about compliance and SEC violations can still arise. To ensure that all of your documents are complete and that your business is not subject to allegations of SEC compliance violations., you should work with a Florida securities lawyer at each stage of the process. We can explain how to handle indications of interest and other important matters.
Contact a Florida Securities Registration Filings Attorney 
If you have questions about registering an offering with the SEC or concerns about how to handle indications of interest in IPO shares, a Florida securities registration filings lawyer can assist you. Contact the Law Office of Clifford J. Hunt, P.A. for more information.
Resource:
sec.gov/files/ipo-investorbulletin.pdf
https://www.huntlawgrp.com/five-things-to-know-about-sec-enforcement-actions/