Forming a Business During the Coronavirus Pandemic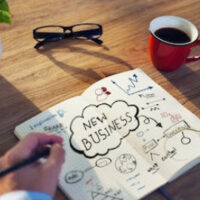 Much recent news concerning businesses in Florida and across the U.S. has focused on business closures, the ways in which many small businesses are seeking loans to help them remain in business during the pandemic, and how even jobs that might seem "recession-proof" are being disproportionately impacted by the coronavirus pandemic. Indeed, according to an article in The New York Times, employees across many different industries are being affected by non-essential business closures. Yet there are some industries that are not being impacted in the same way, and in fact may even be turning a significant profit despite the pandemic closures. For instance, The New York Times cites tech companies like Amazon and Google, and streaming service businesses like Netflix, as businesses that, so far, are doing much more than weathering the metaphorical storm. Indeed, these businesses are continuing to hire when so many others are furloughing and terminating employees.
While forming a business during the coronavirus pandemic on the whole might be a problematic plan, the same may not be true for business entity formation that focuses on technology.
Signs That Florida is Becoming a New Tech Startup Region 
You might not immediately think of South Florida or Central Florida as likely areas for tech startups, but a number of press releases in recent years have commented on how areas like Tampa Bay, Orlando, and Miami are growing rich in tech startups and entrepreneurial activity. For example, a press release from the Founder Institute described South Florida as a region "primed to become the next Silicon Valley." According to The New York Times, "Silicon Valley hasn't suffered from the same financial devastation as other industries," and some entrepreneurs are thinking about new companies that could benefit from the ways in which "tech services are increasingly in demand as millions of people work and socialize from home to avoid being infected by the coronavirus."
In short, while starting a new company during the coronavirus pandemic might not make sense for entrepreneurs in many industries, the tech industry simply may be distinct from the others. As such, if you were thinking about a tech startup or forming a new tech company prior to the pandemic, you could consider moving forward with your plans with the help of a Florida business formation attorney.
Forming a Business in Florida 
Depending upon the type of business structure you choose for a tech startup, you will likely need to register your business with the Florida Division of Corporation and file any necessary documents. Yet first, you will need to determine the type of business structure that best suits your needs.
Tech startups can rely on a variety of business structures. Some are formed as limited liability companies (LLCs), while others may be formed as C-corps. A business formation attorney can work with you to determine the best path forward for your company.
Contact an Entity Formation Attorney in Florida 
Do you have questions about entity formation for tech startups in Florida? One of the Florida entity formation lawyers at our firm can answer any questions you have today. Contact the Law Office of Clifford J. Hunt, P.A. to talk with one of our business lawyers today.
Resources:
nytimes.com/2020/04/02/business/economy/coronavirus-unemployment-claims.html
fi.co/insight/is-south-florida-about-to-become-the-next-silicon-valley