Florida Non-Disclosure Agreements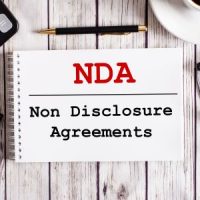 For Florida companies in certain industries, non-disclosure agreements (NDAs) can be an integral part of day-to-day business. There are several different reasons why a business might want to use an NDA, depending on their business partners – and understanding the parts of an NDA is crucial for those who require them.
Several Different Potential Uses
There are two types of NDAs – unilateral and mutual – and both have their uses for the average company. Unilateral NDAs are helpful in dealing with potential new employees, while mutual NDAs are better fit for business partners and those who are in similar positions of power. There is so much information that one might want to keep private – from client lists to trade secrets and proprietary marketing information – that a business in a sensitive industry is almost always better off in using one.
In addition to protecting your business's vital information, an NDA can also help set the expectations of any new hires. Being asked to sign an NDA at the start of one's employment may seem intimidating to some, but for employers it places all of their cards on the proverbial table – it sets out exactly what must be protected by an employee.
Is It Enforceable?
It is important to keep in mind that Florida law does set out certain conditions that an NDA must meet in order to be considered enforceable. A NDA is essentially a restraint on free trade – that is, it restricts one or both parties, preventing certain actions in trade – and because of this, it must be limited in order to be considered appropriate. The primary consideration for an NDA is that it must be protecting a "legitimate business interest."
There are several factors that qualify as 'legitimate' business interests, including trade secrets, 'substantial relationships' with customers or clients, and specialized training. An NDA must be protecting that interest, and it must be doing so in a "reasonable and necessary" manner – if not, it will not stand up in court. Florida courts are somewhat hostile to NDAs, so you must be prepared to establish your needs effectively.
Contact A Seminole, FL Business Law Attorney
Non-disclosure agreements can be complex instruments. If you are in need of one, contacting a Florida business law attorney from the Hunt Law Group may be the first step to getting that need met. Call our office today at (727) 471-0444 to schedule a consultation.
Source:
leg.state.fl.us/statutes/index.cfm?App_mode=Display_Statute&URL=0500-0599/0542/Sections/0542.335.html