Enlisting Outside Corporate Counsel Can Help Save Your Company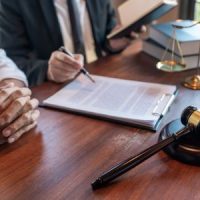 When getting off the ground, some small businesses simply do not require much legal assistance. However, the need almost always becomes pressing as a company grows – simply too much is going on for the average business owner to handle on their own. Having a general counsel for your business is always a good idea, but depending on the business, it can actually be more tenable to hire outside general counsel – it can save time, trouble, and money.
Definitions & Differences 
A general counsel is simply an attorney who works for your company – specifically for the company, rather than for the owners or the shareholders. They will always have the company's best interests at heart, even if it means going against the company's executives (though this is rare). They can assist on most legal matters, and make decisions for the business if empowered to do so.
An "outside" general counsel will fulfill the same functions, but is not an employee of your company; rather, they may be on retainer, which means that you pay them a sum for them to make themselves available when you require their services. This is a good situation for a business that may not require constant legal help, but has enough work for an attorney to want to have one available.
Several Positives
Trying to determine whether your business needs a full-time in-house counsel can be difficult, simply because so many factors may be involved in such a decision. There are many positives to having an outside general counsel, in addition to the savings. One of the most immediate is the efficiency and flexibility – if your business does not have 40 hours' worth of legal work each week to occupy an attorney, it may be more practical not to engage one full-time.
Another positive attribute of having an outside general counsel is that they tend to have expertise in more legal areas than an in-house attorney. Historically, or sometimes even while they are on your company's retainer, an outside general counsel has acquired a wider breadth of experience, which can then be put to work for you.
Call A Seminole Business Law Attorney
While there are many reasons why an outside general counsel may be the best option for your business, it is always best to discuss the matter with an experienced Seminole business law attorney. The Hunt Law Group has handled these matters and is ready to try and assist you with yours. Call (727) 471-0444 to schedule a consultation.