Do I Need A Business Succession Plan?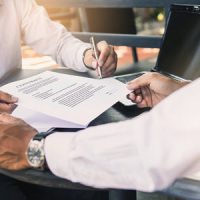 One of the most commonly neglected parts of owning a business is the issue of succession, or in other words, the process of passing on leadership roles to younger or less experienced employees. While many people do not want to contemplate retiring from their place of work, it is crucial to have a succession plan for your company – it can increase your business's ability to adapt on the fly if something major occurs.
Why Have A Plan?
Succession planning for your business does not simply involve choosing who will succeed whom in which role. Rather, it is a contingency plan of sorts, to be instituted in pieces whenever necessary. As a result, it must involve steps like hiring the right employees and cross-training them to fit multiple roles in your business. If your company is small, your choices may be more limited – or you may not be interested in recruiting; rather, you may want the next generation of your family to continue the business.
The key reason to have a succession plan is stability. While obviously, some things will simply happen, a change in leadership is something that can be planned for; having a plan will minimize the transition period between executives or team leaders. In addition, having a concrete plan can help raise morale for your employees, particularly if the change in leadership is sudden and would otherwise create uncertainty.
Be Aware Of Probate Issues
While business succession plans most often deal with turnover among upper management and board members, it is important for you to have plans for your own retirement – or even your own passing. In most situations, you have broad discretion in terms of structuring your plan (with the consent of the board or whomever may be necessary), but business ownership is considered an asset – which means, in most cases, it will pass through probate unless proper provision is made. This can potentially cause serious delays in restructuring, depending on who may be awarded your interest.
If someone passes away without a will, their assets will be divided according to Florida's intestate succession law – in general, a spouse receives the majority of an intestate estate, with the rest being handed down to children, parents, siblings, and any other family if no others exist. Because of this, it is crucial to have an estate plan as well as a business succession plan; otherwise, probate law will supersede your wishes for your stake in the business – which is not only frustrating for many people personally, but can throw a wrench in your company's day-to-day operations.
Contact A Seminole, FL Business Law Attorney
If you are in need of a succession plan for the business you have built, it is a good idea to contact a knowledgeable attorney. A Seminole business law attorney from the Hunt Law Group can help. Contact our office today to schedule a consultation.