Breach Of Contract In Florida Business Transactions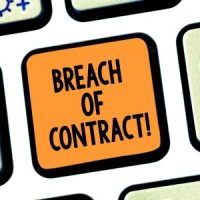 When two people or businesses enter into a contract, they are essentially relying on each other to uphold their respective ends of the bargain. However, contracts are breached with regularity, leaving one party in a potentially unpleasant position if they have relied upon the contract's completion. If your business has been subject to another's breach of contract, know that you have the right to seek restitution.
Was There A Valid Contract?
In order to determine whether there has been a breach of contract under Florida law, there must have been a contract in the first place. A contract involves an offer and an acceptance of that offer, and generally involves a 'meeting of the minds' – ensuring that both parties have the same conception of the contract. Florida's Statute of Frauds requires that some contracts be in writing, but some oral contracts can be enforceable, depending on the subject matter.
What Constitutes A Breach?
If a valid contract exists, a breach generally occurs when one party fails to live up to the obligations to which they agreed – for example, delivering products, paying fees, or turning over information. In most U.S. states, a person or business must show three elements in order to prevail on a breach of contract claim: (1) the existence of a contract; (2) a breach of that contract; and (3) damages done as a result of the breach.
Florida law differs from traditional contract law in one important respect – in order to recover damages, a breach of contract must be "material" – that is, the plaintiff must have suffered tangible, significant harm, severe enough that the court believes a (usually monetary) remedy is due. This can sometimes be difficult to establish, but it is not impossible.
Two Remedies
If your business is found to have a valid claim for breach of contract, be advised that there are two main types of remedy in this sort of case. Which will be ordered by the court will depend on the nature of the contract itself. If it would not be unjust or inequitable, a court may order specific performance – completing the contract as written – or rescission, which is essentially "undoing" the contract as if it never existed. However, if either of these options would be unfair or inequitable, monetary damages can be awarded.
Contact A Seminole, FL Business Law Attorney
If your business has been the victim of a breach of contract, consulting an experienced Florida business law attorney from the Hunt Law Group can help you decide how best to proceed. Contact our office at (727) 471-0444 to speak to an attorney.
Sources:
leg.state.fl.us/statutes/index.cfm?App_mode=Display_Statute&URL=0700-0799/0725/0725.html
floridabar.org/the-florida-bar-journal/the-material-difference-in-florida-contract-law/