Explaining Blue Sky Laws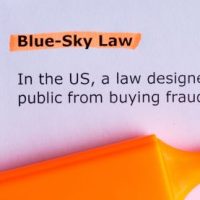 In the 1920s, prior to the Great Depression, speculative investments were widespread. There was no real oversight of the securities market (the Securities & Exchange Commission did not come about until the mid-1930s) and as such, firms did not have to provide any kind of establishing information about their investments. This contributed significantly to the 1929 stock market crash – and in the aftermath, federal and state authorities sought to establish regulations requiring registration of securities. These are called 'blue sky' laws.
Providing Protection From Fraud
Blue sky laws began to come into effect immediately after the stock market crash, though they only acquired a more uniform framework in 1956, with the creation of the Uniform Securities Act and its model legislation. They are designed to provide protection to the average investor against securities fraud in two major ways: by requiring registration for most securities that will be sold within the country (or state, more specifically); and by cracking down on sellers who commit fraud.
It is important to be aware that while most securities must be registered with the state before they can be sold, there are exemptions in place for certain types of securities under which registration can be avoided. For example, for certain public offerings, an issuer must register as a securities 'broker-dealer' in Florida in order to sell their securities, but if an issuer falls under another exemption, no registration is necessary. Doing one's due diligence before selling Florida securities is crucial.
Florida Law Protects Investors
Something that most people are unaware of is that until 2009, the Florida Securities & Investor Protection Act (FSIPA) did not allow state officials to prosecute instances of securities fraud, as it was solely the jurisdiction of federal investigators. The law was altered after the 2008 recession – given the number of wealthy residents who call Florida home, it was seen as a positive move to have the state exert more control.
If you live in Florida and suspect that you have been the victim of fraud, or other irregularities in securities transactions, state authorities are able to pursue such claims, but consulting a securities law attorney is also a good idea. This is a complex area of law that can be hard to navigate on your own. An experienced professional can help guide you through.
Contact A Seminole, FL Securities Lawyer
If you have questions or concerns about Florida's 'blue sky' laws, a Seminole, FL securities law attorney from the Hunt Law Group may be able to help. Contact our office today to schedule a consultation.
Sources:
nasaa.org/wp-content/uploads/2021/10/1956-Uniform-Securities-Act-with-NASAA-Updates-and-Commentary.pdf
leg.state.fl.us/Statutes/index.cfm?App_mode=Display_Statute&Search_String=&URL=0500-0599/0517/Sections/0517.061.html